In recent years, There have been a lot of stereotypes and negative experiences about remote workers that all offshore software developers are low quality, undependable, and unable to communicate effectively. It can be true in some cases but yeah, never judge a book by its cover.
Not all the books that look the same are the same. In the past decade we have seen an increasing flood of cutthroat overseas development shops promise inexpensive services and then fail to deliver by even the most basic professional's standards.
We live in a world where no one is perfect. Everyone has their own flaws and expecting that one can fulfill all your needs is surreal.
Clearly, there must be more to hiring remote workers and remote software developers than the stereotypes we are forced to believe. In truth, if hired wisely and properly any worker, be it a remote worker, can be proven to be an asset for any organization.
As the number depicts, whether we want to admit it or not, a growing percentage of that kind of talent is overseas.
Considering all of that, this very post will try to change your mind about the 5 most irrelevant lies we have been told about remote workers, with the focus on software developers.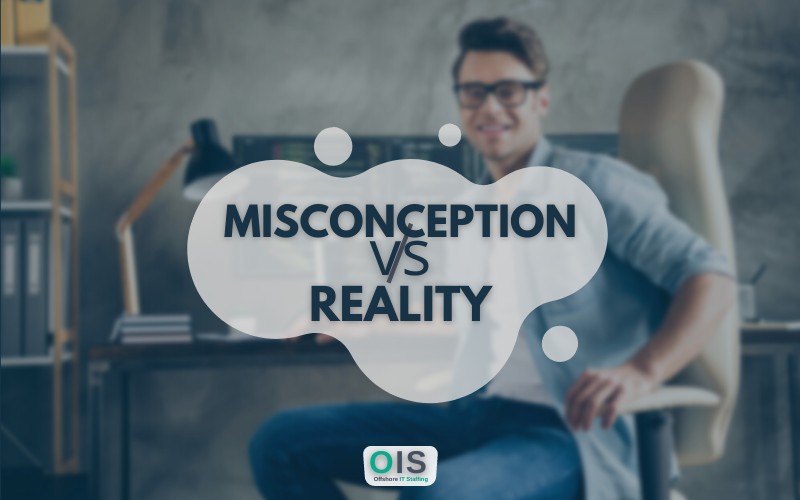 Misconception #1: Domestic software developers are better than Remote Software Developers.
Reality: Real talent can be hidden anywhere. Quality is never compromised based on geographic location.
It is a myth to believe that the U.S has the best IT talent, it could be true for some developers there, but to say that top developers from other countries aren't as good as those in the U.S would simply not be true.
There are great talents in India as well who can give cutthroat competition to any software developer in the world with their skills. All it takes is to burst the balloons of stereotypes we have for them in our minds.
Top developers are the ones who stay up-to-date on leading-edge technology and it is important for their commitment to technical excellence, not because of where they are located geographically.
Remember the following platitudes.
Better hiring a good remote software developer than a bad local developer.
A good remote software developer with great skills is better than a bad local developer.
Top developers will always prove their worth regardless of where they are located.
---
Misconception #2: Remote software developers are expensive and the hiring process is relevantly costly.
Reality: It all depends on the experience of the software developer, really. The more is the experience of the developer, the more will be the cost. But as compared to finding the local software developers and hiring them, the remote option is always better to save the cost.
Nowadays, many growing start-ups and companies know that the best developers may not be located within the commuting distance of their offices. Even if they try to look out for them, their rates may be ridiculously high to the level of their skills. A local hire will be of no profit.
Quality is always the primary concern for the recruiters whilst hiring. The motto is, Employ the best, not the cheapest and you'll be the beneficiary of remote team members who are nothing short of stellar.
---
Misconception #3: Discrepancy/Change in culture, language, and time zone are serious problems.
Reality: Change is often good. It's okay to have diversity in culture, language, religions, races unless you're a racist. It teaches you a lot if looking at the brighter side of it. World knows the language of heart and that is love. It understands everything if given a chance. Let's try not to constrain ourselves and take this as a barrier to work, rather accept the challenges, work through it and learn out of it.
First of all, I do not resent the fact that the potential for cultural, language and time zone challenges do not exist when hiring remote software developers or web developers. It does, but it is something that can be worked upon.
And secondly, better ways of recruitment and hiring wisely through a highly exacting recruiting process can eliminate the risk of compromised commitment to excellence.
We are intelligent beings and very adaptive in nature so differences in culture and language can be fixed but different time zones can be a problem. But with proper management of time, it too can be taken care of.
---
Misconception #4: Remote software developers won't fuse well with your team.
Reality: It depends on person to person. If they are good and treated well, they will surely prove to be the best of your hiring.
A sharp remote software developer is not only sharp technically, but is also socially and professionally crafty, and therefore will be well aware of all the misapprehensions that you may have for them.
Besides, just as it is hard for the top-level companies to find superior developers, it is often hard for top-level developers to find best companies to work for, especially when it's remotely.
For this very reason a high caliber remote software developer will often work real hard, try to be in the race and do everything in his power to gain your trust and respect.
Show these remote developers your trust, your respect and you'll be astonished by the best they can bring you to the table.
You'll have someone who's unflinchingly loyal and committed to the success of your project and organization.
---
Misconception #5: Quality remote software developers are not very easy to find.
Reality: They are actually pretty easy to find if you know where and how to look for them and where and how not to.
You will get hundreds of emails from a company touting offshore resources in a day but filtering them wisely and choosing the best to consider can really help you find the better resources. Remember, it's always about the quality.
---
Also Read: What to Look for While Hiring a Remote Developers
The sources for remote software developer team members basically fall into three categories:
Offshore body shops.

This is the majority of what's out there and much of the reason for the negative stereotypes that exist (in some cases). They're the ones that promise extremely inexpensive services and try to deliver the best possible outcomes in professional standards and can turn out to be a disaster too in some cases. Choose wisely!
Independent consultants.

There can be inferior consultants and premier consultants. The inferior ones are usually fairly easy to detect based on the low caliber of their communication skills or the level of desperation that they emanate. On the other hand, the premier ones can be elusive and hard to find, typically finding work through their own network of contacts. They can suggest the best talent through their networking.
International freelance networking sites.

In recent years, we have seen that a number of international freelance networking sites have emerged a lot in order to serve as a marketplace to connect customers and remote software engineering resources around the globe. These sites offer customers a more centralized means of accessing global technical resources. However, it is not necessary that these sites always offer you the fine talent and the quality of the individual services. These networks just focus on providing a marketplace for technical services. So here the challenge remains that of quality. Some of the resources available through these networks are top-notch, but the majority tends to be substandard.
At last I'd like to add that, high quality technical resources do exist around the globe. All you need to do is to look out for the best possible options you get and then choose wisely.
With the help of proper research, you can hire the best remote software developer for your company and get along with it pretty fine. The company I work for, Offshore IT Staffing, does that work pretty precisely.
Offshore IT Staffing can help you provide with the offshore remote developers, and is in fact employing the best of their remote software developers available with them to start-ups and too big organizations with great success.
Hey, 🙋there. Thankz for stopping by my profile. My name is Ritika Thakur, Sales & Marketing Specialist at Offshore IT Staffing. My passion for writing is something words can't describe. It's like an addiction to something you've no control over. I'm avid nature and animal lover. A keen observer and astute who can write about anything in the world.