Let us say you are a midsize or small enterprise or software company.
You have an upcoming project that you need to execute for a client or for yourself within a timeline. Your company does not have the required staff for it and you do not want to hire permanent employees for, let us say, a six months project and train them according to the job.
Nevertheless, the project is ambitious and you want the best talent in the field to create a competitive product.
For instance, for an e-commerce website or building a mobile app, you would require (minimally)
An android developer,
An IOS developer
A designer
Back-end developer
A content writer
A project manager to manage the above team
So, would you want to hire 6 people for a single project in-house?
Your best bet is to outsource. Outsourcing is not as easy as it seems to be. Hunting down the right people who can promise to do a satisfactory job at the right time is a chore.
However, you have 2 evident options to outsource a project- freelancers or an offshore staffing team. Freelancers would mean hiring individuals whereas offshore implies you are seeking collaboration with a staffing firm that acts as an extended arm for a given project.
Which one would be the more advantageous option so that you can have the best of expertise, pricing, coordination, and a guarantee of satisfaction? Let us compare both options and see what these alternatives have to offer to the client.

As an example, we will proceed to contrast and compare Toptal.com- a freelance platform and OIS- Offshore IT Staffing Partners point by point.
Toptal vs Offshore IT Staffing
Types of Services
There is a basic difference in the methodology and the nature of services and the experience one gets while interacting and transacting on both these platforms of outsourcing work. 
OIS handles and executes projects for the clients. They assign dedicated squads who work exclusively on their assignment.
All developers are full-time on-roll employees of OIS. Each of these staff is vetted, certified, and highly skilled. Every project is assigned to a team led by a ScrumMaster certified project manager.
The built team works collaboratively in the same office (belonging to OIS). You do not need to bother about what kind of skill-set or how many professionals you require to complete the assignment on time.
OIS handles all that. For example, if you wanna outsource the creation of a mobile App, OIS would assign android developers, back-end programmers, full-stack or hybrid, and content writers, etc.
Thus, they will build a group internally with the maximum skills and the minimum people. For team management, achieving goals, and following deadlines, a ScrumMaster project leader drives the collaboration. The team follows an 8-hour shift regularly which adds up to 160 hours per month.

Toptal provides a platform or an interface where you can search for freelance professionals. The freelancers are categorized based on their field of work. These freelancers work individually. How experienced they are, is questionable.
Toptal is a network for hiring any number of freelancers for a work order. These professionals are not employees of TopTal and therefore, they are free to do other work for different clients as well. You yourself have to coordinate their work. Since they are freelancers, their hours and time of working are varied.
Also, if they are geographically apart, they might be working in different time zones. So make sure that you keep the locations in mind while hiring.
Non-disclosure and Data security
Whenever you outsource a contract, your business gets exposed to outsiders. In the case of in-house work, the HR department takes care of that by including the non-disclosure agreement in the appointment letter itself.
OIS offshore IT staffing sign an NDA (non-disclosure agreement) with the clients who start a project with them. The whole team (who are IOS employees) are also bound to this agreement of confidentiality, data security and to not use sensitive information with other clients, specifically those in competitive fields.
TopTal is an interface, a website where you can contact and hire developers or programmers. However, the website has no role in whether or not the freelancers abide by any terms and conditions in your favor.
Time and cost of outsourcing
Here, we compare both the options on the basis of time taken the project to complete- it includes the initial take-off downtime, development, testing, analysis, and product delivery.
OIS claims that the projects go on the floor within a period of 48 to 72 hours. It is really quick because it includes the downtime (time spent in recruiting). This is so because the hiring is done at one go. The total number of developers required for a job are engaged & coordinated within this time. The entire assignment takes a shorter time compared to freelancers because the OIS team coordinates under one roof.
OIS guarantees that the total cost of any job would be 70% less than that of in-house employees. That is a huge profit to the client because he is getting vetted talent and a well-coordinated team.
If the job requires only a single person or a short term, there is complete flexibility. Also, since the entire team is working in the same office under the guidance of a manager, work is much faster than individuals working remotely and independently. Hence, lower is the cost too. Charges are per hour per month.
Toptal mentions only the hiring time as 48 hours. It does not say anything about the project going underway.
Regarding pricing, Toptal does not mention charges, and rightly so because Toptal is only an interface. What the freelancers quote according to the expertise they claim, is entirely up to them. Charges are usually on a per-hour basis.
Updates on work
IOS offshore team is like an extended arm who work 8 hours every day (5days a week). The programmers send daily reports and commit the code into your repository. They can be contacted via phone, email chat or chat
Toptal provides freelancers who are not bound to send daily reports or codes to the clients.
We have formulated the following table to highlight some of the main differences for a quick analysis.

 Toptal vs. Offshore IT Staffing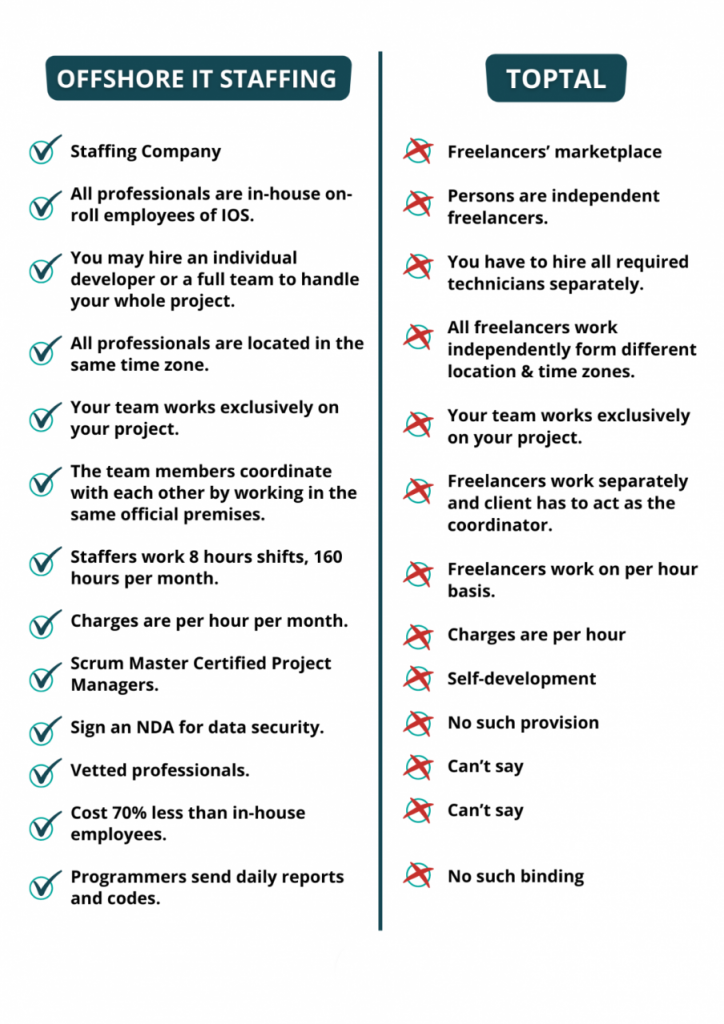 Conclusion
From the above study, we can observe the main difference. OIS is an offshore staffing company that executes assignments for you via a dedicated team headed by a ScrumMaster. The staff is permanently enrolled for OIS. With Toptal, you are basically on your own unless it is a small little task you want to outsource.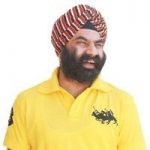 I have a green thumb - I love to do gardening and am also into organic farming. Other than that I simply love traveling and networking with people. I spent 13+ years living in North America and have traveled extensively around the globe with global business interests.